Bodegas BAIGORRI, located in Samaniego (Álava), surprises with the viewpoint that welcomes the visitor and throws them before a privileged view of vineyards framed by the Ebro river. It is an incomparable setting for cultivation of the vine, where nature and technology have come together to work in harmony. BAIGORRI entrusts the management of its financial, production, logistics, commercial and wine tourism operations to the technology of VinoTEC and Microsoft.
Discover Bodegas BAIGORRI, a benchmark in quality wine tourism
Iñaki Aspiazu, its architect and builder, has been able to masterfully combine topography to, through 7 underground floors, make possible a space for learning and enjoyment that never ceases to surprise the visitor. The result, a totally diaphanous and open winery. Gravity acquires all the leading role in the winemaking process, as it allows the grape to arrive whole to fermentation. All grape or wine movements are carried out by gravity, avoiding any type of mechanical lift.
A firm commitment to wine tourism
Some of BAIGORRI's main attractions are guided tours in different languages accompanied by a wine tasting, select tapas, or a tasting menu with regional products paired with its wines and views of the vineyards and barrel room. In addition, the Winery offers personalized events in its 500 square meter viewpoint, fully glazed and with stunning views of an immense sea of vineyards, the Sierra de Cantabria and the town of Samaniego.
On demand and for groups, tasting courses and visits to the vineyard are also scheduled.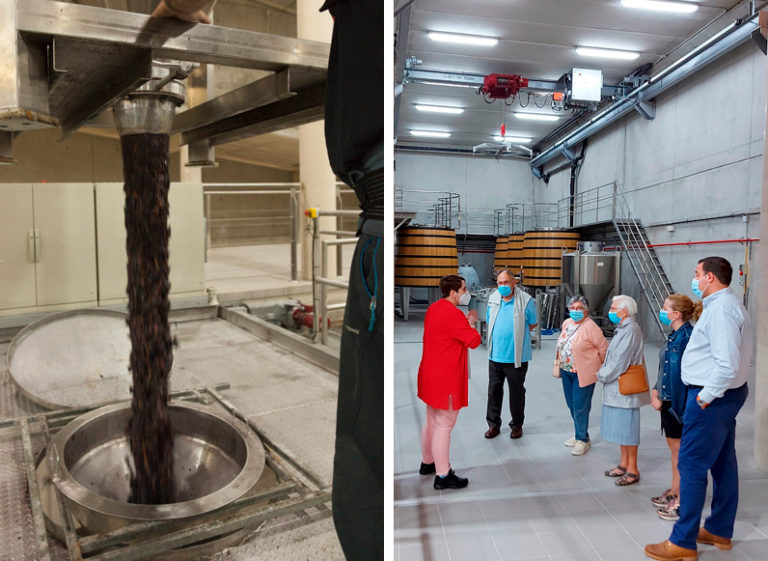 Technology at the service of wine tourism
Bodegas BAIGORRI has opted for VinoTEC Enoturismo to coordinate with agility its 15,000 annual visits, both from national and foreign tourists.
Some of its hallmarks are knowing in depth the characteristics of its customers, organizing them systematically into interest groups, and establishing a personalized, continuous and non-intrusive muti-language communication policy.
Having effective tools to manage its wine tourism model is a priority for BAIGORRI's business strategy. Its service offering is more and more customized. It requires agility for managing its touristic products and their reservation process (groups of visits, reservations, calendars); as well as to coordinate the capacity of its material and human resources, and design a proactive communication policy (confirmations, cancellations, follow-up of clients, incidents, surveys). Wine tourism has become an excellent touchpoint for winelovers who aim to maintain a close relationship with the Winery that can be strengthened with highly segmented marketing campaigns.
BAIGORRI successfully combines a portfolio of experiences that discover the management and aging processes of its wines with interesting proposals for personalized leisure services at winery (events, ceremonies, exhibitions…). In this sense, VinoTEC Enoturismo provides capabilities to automate repetitive tasks, standardize processes and grow at the pace of the business.
Bodegas BAIGORRI has an exhaustive control of all its wine tourism activity; it counts on a powerful system for analyzing key business indicators. Baigorri is able to deploy interesting strategies for approaching to new customers and gain their loyalty, at a time it projects an excellent brand image, in accordance with the quality of its wines.